If you are wondering why people are or aren't finding you online, then you need to get into the meaty stuff about how Google sees your site and where it places you in search engine results. It is critical to your online success to be regularly looking at your data and understanding what is actually going on – enter Google Search Console. 
So how can we do this?
Google Search Console helps you do exactly that. 
Using it is a great way to understand more about how people are finding you online right now as well as helping you improve where you are listed inside Google Search results.
Google Search Console ( or what was commonly known as Webmaster Tools) is a FREE service offered by Google that helps you monitor and maintain your site's presence in Google Search Results.
This tool is how we tell Google all about our new pages, what we have at our site, when we update it, how we structure it all on autopilot.
From an SEO perspective, it is gold.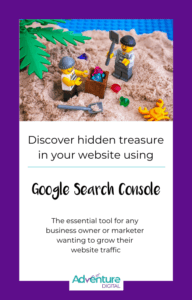 It is a critical little tool that any web developer worth their salt should set up for you when they build your website. 
If you are a DIY person, you need to do this with your site because this is the tool that tells you how Google actually sees your site, how people are searching and finding you, identifies areas for improvement or errors on your site,  plus, it is here that you submit a sitemap to Google that helps Google understand the structure of your site.
Google Search Console is not needed to index your site, but it is super helpful to have it in place and it is essential for any new site or upgraded site.
So first up how do you access this marvellous tool?
Setting up Google Search Console
To take advantage of Google Search Console, you need to first submit your site.
To do this visit – https://search.google.com/search-console/about
Follow the prompts to sign in with your google account and then click Add Property
Once you enter in the domain of the site you want to add, you then need to verify your domain. There are several methods available to do this.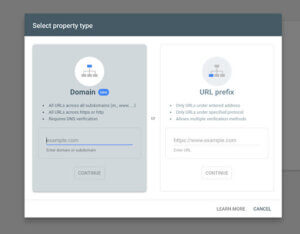 If you follow the DNS method, you just need to enter in your domain and then update your dns with the record you see in the next screen. If your IT company or web developer manages your domain, they will be able to help you with this.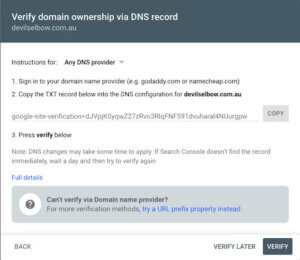 If you need to use the URL method, then all you need to do is enter in your domain name, you may find this an easier method if you also have Google Analytics hooked up.
In both instances, you need to verify your domain so that you can proceed with all the information that follows.
First up you need to get your sitemap submitted. A good web developer would have done this for you when they built your site. Otherwise, you can do this now.
Your sitemap is a file at your website that lists all your pages, their hierarchy, dates relating to updates etc. It is an XML file and most content marketing platforms usually create this automatically for you.
With Google Search Console is it easy to see where you need to upload your XML file and where you need to type in the address.
You are not actually uploading a file, rather you are telling Google where to look for your sitemap.xml file. This file is really important from an SEO standard point.
It is the starting point for Google to index your site correctly and quickly. Here at Adventure Digital we do this each time we send a site live.
It is a step just like embedding Google Analytics or your Facebook Pixel. It is just part and parcel of the go live process.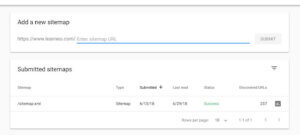 Most platforms automatically have this file ready to go. Squarespace does this, so does Wix, Shopify and Kentico. (We know – too easy!)
With WordPress you just need to use a plugin to make it happen. We recommend the Yoast plugin for this process, as most people with WordPress sites we work with use the Yoast plugin for their search engine optimisation, so it is handy to have the one tool to manage a few items.
With a few little clicks inside the plugin, you can make this happen but the url you need to submit will be sitemap_index.xml.
How do you use Google Search Console
Ok, so now that you are verified, what next.
There are several parts to the Google Search Console.
In the side navigation of the current version of the console, you see
Overview– This is an overview of what is going on with your site as far as Google is concerned. Pay attention to the Enhancements area.
Performance – This is the place you go to see what people are actually searching for to find you, what kinds of search queries returned your site in the mix of results and what position you were in. This is incredibly valuable as often, what we want people to know us for online, and what people actually know us for, are 2 different things.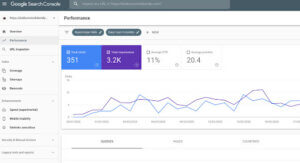 URL Inspection – This is where you can test a page url on your site to see if Google has indexed it. If it can't index a page, then google can't return it in a search.
Index – This area is where you dive in to upload your sitemap.xml file.
Enhancements – This is where Google is letting you know about potential speed and mobile usability issues on your site.  Don't worry if your site doesn't have enough data here as yet, try the Page Insights link instead to help.
Security and Manual Actions – This refers to other issues that might be preventing your site from appearing correctly in Google Search
Legacy Tools – this is where older tools like crawl stats and messages appeared. Google is phasing these out
Links – This lets you know what other sites might be linking back to you and giving you some good juice. Quality Backlinks ( i.e. people who link to your site) provide terrific domain authority to your site and help to boost where you appear organically within search results for a particular keyword. 
Analysing this part of the Google Search Console should be a key part of your SEO plans and overarching digital strategy.
We have only scratched the surface of how this tool can benefit your business. So, we have created a little tool kit to help you get started. Download it today and unlock your website treasure! 
The best part? It's 100% free.