For many small business owners, online presence isn't just a luxury—it's a necessity. While every piece of content on your website is essential, there's one often-overlooked page that can make a significant difference: the Thank You page. Instead of viewing it as a mere afterthought, harnessing the potential of Thank You pages can reap numerous benefits. In this short guide, let's dive into the advantages of using Thank You pages on your website.
 Reinforces Brand Image



Every touchpoint with your audience—be it through emails, advertisements, or web pages—helps in solidifying your brand image. A well-crafted Thank You page isn't just a formality; it's a chance to further resonate with your customers. Tailor its design, messaging, and content to align with your brand, ensuring that even this 'last step' feels cohesive and memorable.

Boosts Customer Trust and Satisfaction



A personalized Thank You message does wonders in making your customers feel appreciated and valued. A simple acknowledgment can foster trust, assuring them that they made the right decision in interacting with your brand or making a purchase. Often, sending people to a thankyou ensures that your viewer is confident that the form has been actioned. Avoid at all costs the "Your form has been submitted" standard message that is often hard to see or notice..

Provides Opportunities for Further Engagement



Instead of leaving your audience at a dead-end, use your Thank You page as a launching pad for further interaction. You can:

Provide information immediately that relates to the form action, such as the download they are subscribing to receive, the event details they may wish to save to their calendar

Provide links to related products or services.

Encourage users to subscribe to newsletters.

Ask for feedback or reviews.

Aids in Tracking and Analytics



From both an SEO perspective and an online ad perspective, Thank You pages are goldmines for tracking conversions. These are especially useful for service based businesses and any business that wants to track a lead magnet quickly. As well as being able to see those numbers at a glance, you can also track the actions that lead up to that action being taken. If you had set up a goal in Google Analytics previously, you may notice that it is quite different to set up the same kind of activity with GA4. Essentially what you are looking at is setting up an event and then making sure that you mark that action as a conversion.





You can see how you need to configure your custom event below.  Contact us if you need help setting up your custom conversion events.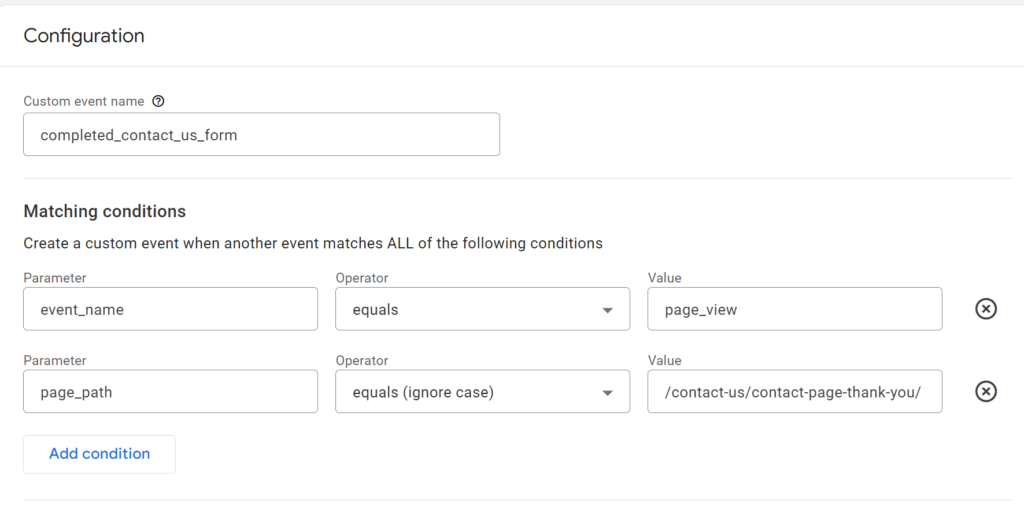 Allows for Up-selling and Cross-selling



Whilst not necessarily a fan of the never-ending upselling pages that we discover online, there often is a place for a genuine up-sell process once a step has been taken. Especially for e-commerce sites, a Thank You page can act as a strategic point for up-selling and cross-selling. For example, if your signup email is sending people a code, you might wish to share the code immediately, so that people can shop immediately. If people are getting details of an event, you might include the event details on the thankyou page, so that they can save (and potentially help them avoid  By showcasing related products or spotlighting special offers, you can boost sales without coming off as pushy.

Enhances User Experience



Ultimately, a well-designed Thank You page enhances user experience. It signals closure to a process—whether that's signing up for a newsletter, downloading an e-book, or completing a purchase. By providing users with clarity, direction, and even some added value, you're elevating their overall interaction with your site.
For small business owners, every aspect of the online journey matters, right down to the Thank You page. By leveraging its potential, not only can you enhance your brand's image and user experience, but you can also unlock more opportunities for growth, engagement, and conversions. It's time to give your Thank You page the attention it rightfully deserves. Reach out to the team here now if you want to improve this part of your website.