Sound
Lights
Camera & Action!
So we are all working from home right now and diving into Zoom meetings like nobody's business.
However, some of us are doing a better job of this than others. 
Even newsreaders are not immune to having a less than professional appearance.
We play a game in our house of rating newsreaders or TV experts by how well they are handling being interviewed from home without the benefit of a TV studio. It's interesting that people who have been simply rocking up to a studio haven't noticed the equipment that is used to make them look and sound good ( and I don't mean hair and makeup or wardrobe!)
The common issues that we see on the morning or nightly news are these
Poor Sound
When interviewed, people are relying on the sound from their computer and not actually using a microphone
Poor Lighting
People are not thinking about what lighting is needed so that people can see them clearly.
Poor Camera
People are using their camera inside their computer and not a dedicated web cam. In addition people are not thinking about the level that their camera is sitting at,  their eyes are not level with the camera ( so we have lots of shots of people looking down into a camera, up into a camera or not looking into a camera at all!)
A Distracting Background
Our favourite gotcha item for this problem was an interview on the ABC program Hack, where the background shot included an unmade bed!
So if you are now working from home and having lots of video conferencing meetings using Zoom or Google Meet or Microsoft Teams here are some equipment and technical tips to help you put your best face forward.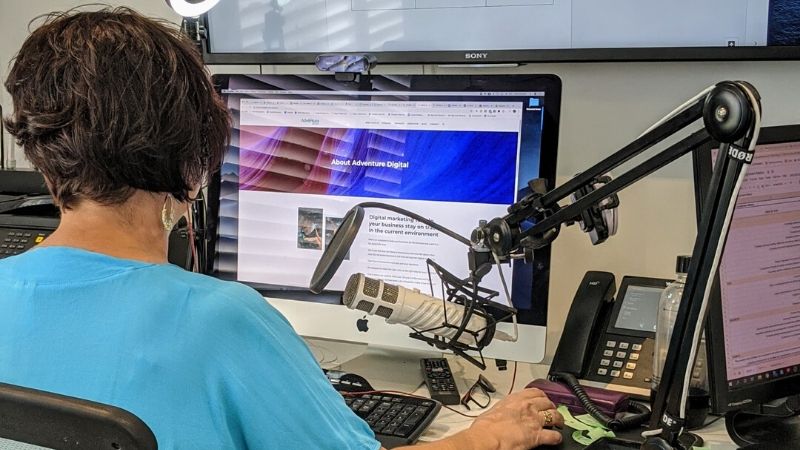 Get a microphone or use a microphone during video meetings
If you are going to be doing a lot of speaking via video, it might pay to purchase a good microphone. 
I use a RODE microphone and have done for years. It has been a great investment. Prices of Rode Microphones range from around $150 up to $500 + depending on how excited by tech you are. 
It is also perfectly OK to use the mic that comes with your small headphones. 
The difference is making sure you have a mic that is close to your mouth. 
So wear small headphones during your videos that don't distract from seeing you, plus you can better hear how loud you sound through your headphones. 
Buy a webcam for video meetings
Don't just rely on your computer camera, buy a web cam. 
These are not big investments and really make such a difference to how you look on screen, without actually doing anything. 
Small Logitech cameras have been my go-to for years. 
And they last for years too!
Pricing again ranges from around $150 up and when you think that they last and last, price per use is peanuts. 
Ensure that your camera is eye height, you want to be speaking directly into the camera and not looking at yourself on the screen!
Get a selfie light ring for video meetings
The influencers little secret. 
These little lights can be the difference between looking dark and mysterious or illuminated and professional. 
You don't need to spend a fortune. I have a little $8 target selfie light for my phone ( which I also have used on my computer!) as well as a mid-sized selfie light that I use on my desk and then a large free standing selfie light I use for longer form video. 
The mid-sized selfie light ring I purchased from Amazon is terrific, with pricing around $70-80.
This is so worth the money – go online and buy one today. It seems like everyone is realising how important this little tool is, as Amazon is currently sold out of what I purchased. But you want to find something like this.
Your background – keep it tidy
We have all seen the memes and videos of Zoom meetings gone rogue. 
I am not suggesting that you would have some of the crazy stuff in your background that you may have seen online, but please make sure you think about what is behind you when you are speaking via video conferencing. 
Here are my tips to ensure people pay attention to what you say and not what is behind you. 
Put up a backdrop behind you that suits your business. I have a custom backdrop designed by Emma from Bespoke Backdrops . But you don't necessarily need to buy anything, you could use a shower curtain ( choose a groovy pattern though not the ducks!) or it could just be a simple wall at home. If using Zoom, upload a static image behind you that suits your brand, then you don't need to worry about mess at all!
If you are using a wall at home, think about what you could put on the wall. Maybe put up a print that suits your business brand, as a blank wall can be a little bit 'blah'. Maybe you could find a screen of some kind that is interesting without distracting from you and your message. 
Avoid showing us your bed! And if you have to, ensure that it is made! (Actually just avoid showing us your bedroom. It's not a good look!)
If you are at the dining room table, maybe not show us your kitchen, unless you are in the food business, then kitchens ( a really tidy showcase one) would be perfect. 
If you are in your home office, tidy up those bookshelves. Put things away, stack things neatly. Think about what your backdrop might reveal about you. Your personal brand is on show here ( ie how you are at home ) so make sure you are leaving the impression you want. 
Put your best face on
This is not about worrying too much about hair and makeup. 
However you do need to be presentable, so present the you that you are comfortable with for your business.
It is amazing what fresh lipstick, great earrings and a scarf can do when needing to look 'on point'.
Gents, a collared shirt never goes astray, even if boardies are on down below. 
Finally, don't stress about all of this
You are not building a home TV studio.  
You are just ensuring that right now and into the future, you are better equipped to manage video conferencing in the professional way that you might do this at your office.