You don't need to be an SEO genius to realise that if your customers can't find you online, the likelihood of them finding you at all will be low. Building local awareness and interest online is essential for any business trying to secure a steady stream of online web traffic. That's where Google Business comes in. 
This must-have tool took the business industry by storm when it was released in 2014, instantly making businesses more discoverable by local consumers. 
What is Google Business?
Made with small business in mind, Google Business is a free tool that allows businesses to take control over how they are represented across Google. By being able to add a location, business hours, photos, and manage reviews, it is a great way for businesses to ensure what is said about them online is true. 
GMB does not work to replace your business's website, but rather complements it by providing a public identity and presence on Google which potential customers can view. The information provided by a business can appear in three different locations: 
Google Maps
Google Knowledge Panel
Google Local Pack 
Google Maps
I'm sure you've all heard of Google Maps and most likely even use it regularly. What you probably didn't know is how important it is for your business to be on Google Maps. 
Recent studies have shown that 46% of all Google searches have to do with location, and of that, 86% of them are made via Google Maps. This means that Maps actually acts as a major source of engagement for businesses, potentially allowing them to be seen by thousands of users navigating the area.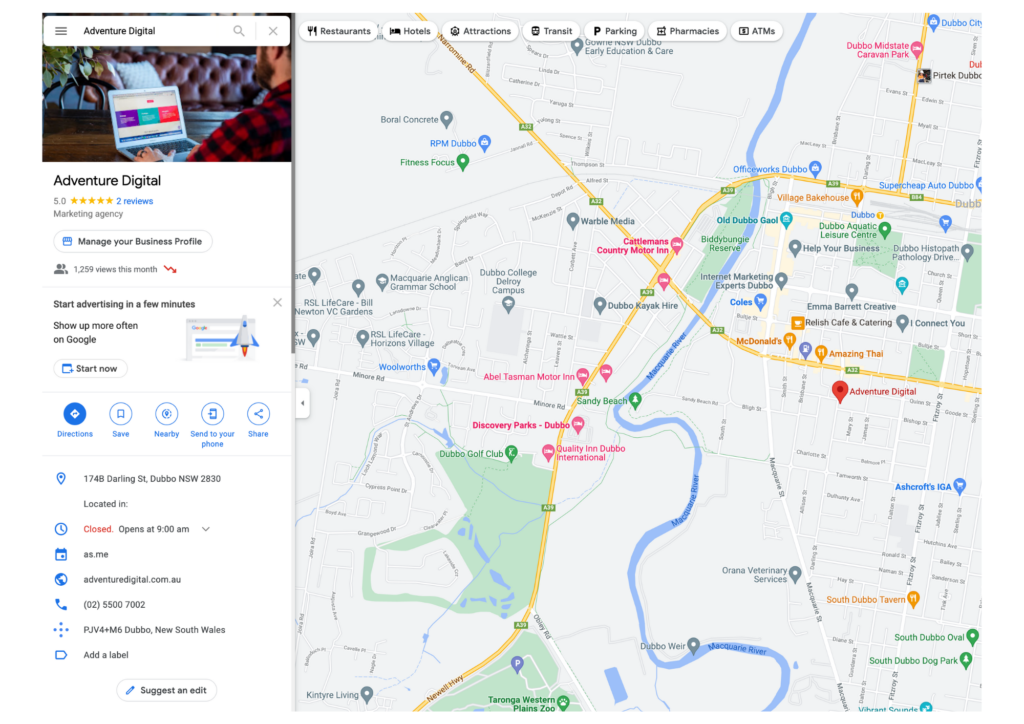 Google Knowledge Panel
Simply, the Google Knowledge Panel is the rectangle box that appears on the right-hand side of your screen when you search for a specific business on Google. This tool allows businesses to display information to users including their physical address, opening hours, contact details, pictures and reviews.
Google Local Pack
Google Local Pack is the list of businesses that appear under the map when a user makes a search query with local intent. Heavily based on location, Local Pack pulls the three best rated and geographically closest businesses from the user's search.
Unlike organic search results, Local Pack results contain clear calls to action, such as to visit the website or to make a phone call, adding great value to both the searcher and the top-ranking local businesses. 
It's important to note that Google's algorithm prioritises listings that are maintained with accurate and up-to-date details, as well as those that contain beneficial information about the business. The majority of consumers won't check beyond the first page of results, so it's essential that your business is ranking well for a range of different search terms. 
Why do you need Google My Business?
Any marketing professional that you speak to will tell you that Google My Business is a pivotal component of any small business. But why is it so important?
As we stated above, the main reasons for creating a GMB page is to gain control over your online presence and give potential customers more ways to discover you. With 46% of all Google searches involving location, having a GMB account is a no brainer. 
However, if you're still not convinced, here are the four main benefits to a Google My Business page:
Gain Insights 
GMB gives businesses a large variety of insights that they are not able to receive elsewhere. These insights can help businesses in their future marketing efforts, providing information on everything from regions to target and mediums to use. Other insights to be gained from GMB include:
How customers find your business
Where customers can view your business on Google
Phone call statistics
Direction request statistics 
Actions customers have taken on your profile 
And much more! 
Display reviews 
Online reviews are a great form of passive marketing and it's important not to underestimate their power. Nearly every digital consumer reads a business's reviews before deciding whether to purchase their product or service. In fact, 94% of consumers say a negative review is why they have avoided visiting a business in the past, while 78% say they trust online reviews as much as personal recommendations. 
With a GMB profile, your business's online reviews, along with an overall star rating, are displayed on Google Local Pack and Google Knowledge Panel. As a business owner, it's important to reply to the reviews left on your GMB profile – especially ones that may not be so positive. 
Improve your local SEO
A great challenge that small businesses face alongside growth, is the ability to maintain both an online and in-person presence. GMB uses many factors to determine rankings for businesses. One of the main factors is relevance. Relevance determines how well your business fits the search intent of the customer. Is your focus identical to what the customer needs, or are you a bit opaque about what your company does? Google does not appreciate vagueness so it is essential to be as clear as possible. 
Proximity is another well-known factor for improved ranking. You can't rank in a local search if you have located your business in a completely different place, so ensure your address is correct on your GMB profile. 
Finally, prominence. Prominence is all about how well known the business is and the activity surrounding your listing. It is based on the information Google has about your business from across the web, such as links, articles and directories. Google review count and score are factored into local search ranking – more reviews and positive ratings, the better your business's local ranking will be. 
Engagement 
Optimised GMB profiles provide businesses with plenty of opportunities to increase their customer engagement. With just one click, potential customers can visit your website, contact your business, reserve a table, book an appointment and get immediate directions. 
How can we help?
If you are looking to set up a Google My Business account for your business, Adventure Digital can help. Our team are experts in the field and deal with GMB accounts every day. Get in touch with one of our marketing specialists today for personalised help and advice.